Sorry we're out of stock!
We can let you know when it's available again, just enter your email address below.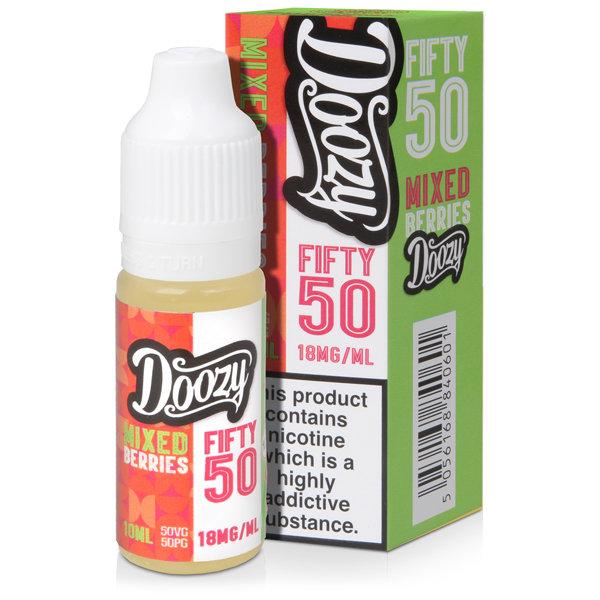 Doozy Mixed Berries
Description

Mixed Berries 10ml eliquid from the 

Doozy range

is perfect for those looking for an easy going vaping experience and for those that enjoy simple flavour profiles that get the job done!

The taste of mixed berries and grapes this flavour is the perfect choice for those looking for something to vape all day! This e-liquid has been blended into a 50% PG / 50% VG ratio making it suitable for all low powered devices, packed in a pocket friendly bottle.

 

Doozy e-liquids are manufactured  in the UK and they have a vast selection of award winning flavours for every taste bud out there

You can pair them easily with any device from our Starter kits or Pod (AIO) Kits for example the Endura T18ii Kit or the Uwell Caliburn Pod kit.

Key Features

Key Ingredients: Grapes, Mixed Berries
Produced & Bottled: UK
Eliquid Volume: 10 ml
PG content: 50%
VG Content: 50%
Nicotine Strength: 6mg, 12mg, 18mg Available
Childproof & Tamper Evident: Yes
Works Best: Starter kits, Pods, MTL Devices

User Guide

Step 1:  Give your 10ml eliquid a good shake

Step 2: Unscrew the top cap, due safety features some caps will be needed to be pressed first down and then unscrew. 

Step 3: Open your tanks filling port, and gently squeeze the liquid out of the bottle. At this stage it is recommended while you fill, to attach the nib of the eliquid bottle to the sides of your tank to avoid overflow.

Step 4: That's you! You are good to enjoy vaping!

Pros & Cons

In order to assist you with your purchase, our staff have put together a unbiased list of "Pros & Cons" for our products in order for you to get the maximum value out of your purchase and help you make the right choice for you!

When It comes to 10ml TPD eliquids have a look at the list bellow:

Pros

Easy to use.
Simple flavour profiles.
Ideal to be used in starter kits or refillable POD systems.
Easy on the coils.
Variety of nicotine strengths to satisfy your needs.
Pocket friendly.




Cons

Not suitable for high powered devices (box mods, sub-ohm tanks etc)
Limited flavour options.
You might have to carry multiple bottles depending on your vaping habits.
You will probably need to order in bulk (e.g 3+) to avoid ordering frequently.
Do not produce a lot of vapour.