Sorry we're out of stock!
We can let you know when it's available again, just enter your email address below.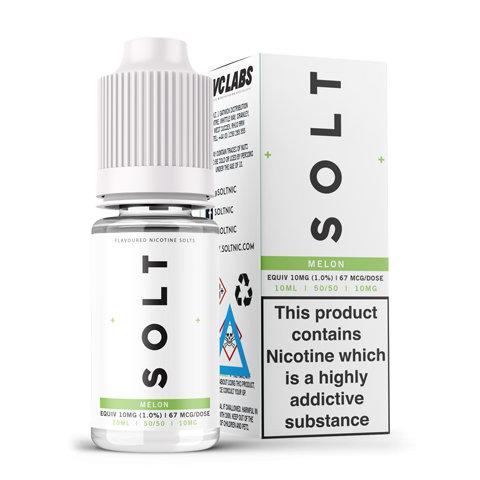 Solt Melon 20mg NicSalt
Description

Flavour Profile: Fruit & ICe

Eliquid Recipe: :Menthol, Watermelon
Produced & Bottled: U.K
Eliquid Volume: 10 ml
PG content: 50%
VG Content: 50%
Nicotine Strength: 20mg
Childproof & Tamper Evident: Yes
Works Best: Starter Kits & Pods
Vape technique: MTL (Mouth to Lung)

User Guide

Step 1:  Give your nicotine salt eliquid a good shake.

Step 2: Unscrew the top cap, due safety features some caps will be needed to be pressed first down and then unscrew. 

Step 3: Open your tanks filling port, and gently squeeze the liquid out of the bottle. At this stage it is recommended while you fill, to attach the nib of the eliquid bottle to the sides of your tank to avoid overflow.

Step 4: That's you! You are good to enjoy vaping!

Pros & Cons

In order to assist you with your purchase, our staff have put together a unbiased list of "Pros & Cons" for our products in order for you to get the maximum value out of your purchase and help you make the right choice for you!

When It comes to Nicotine salts eliquids have a look at the list bellow:

Pros

Easy to use.
Simple flavour profiles.
For use in starter kits or refillable POD systems.
High nicotine concentration, ideal for heavy smokers
Better absorption from your body to satisfy your nicotine cravings.
Smooth throat hit, despite  the high nicotine level
Pocket friendly.




Cons

Not to be used with high powered devices (box mods, sub-ohm tanks etc)
Must be used carefully and few puffs at a time. Not suitable for chain vaping.
Not the best price/ml ratio.
Do not produce a lot of vapour.